Welcome to shepherds!
With Love Conquer Everything
Shepherds Matriculation Higher Secondary School was started in the year 1991 by Shepherds Educational Trust with a very humble beginning and greater cause to provide quality education to all the rural students within the vicinity of the school and nearby villages.
Shepherds matriculation is undoubtedly one of the best schools in Tirupattur in terms of providing quality education to the students and ensuring that the parents are not burdened with the rising cost of education.
Shepherds have been achieving 100% results in the 10th & 12th examination due to the sheer hard-work and commitment of our dedicated teachers backed by supportive management.
Why Shepherds?
Secured Tamil Nadu State Rank with 498/500 marks.
100% pass percentage of 10th students and 12th students among all schools in tirupattur.
Three decades of providing rural students with high quality and affordable education.
Well qualified, dedicated and best teaching faculties who are passionate towards imparting highest standards in teaching.
Fully equipped Labs, School buses for children, CCTV and many more facilities.
Central Government Atal Tinkering Lab (ATL) approved school which is a program run by Atal Innovation Mission (AIM) under NITI Aayog.
Also one among the few schools to be selected for ATL across India for the academic year 2020.
IECD Computer Certificate courses for students in collaboration with Bharathidasan University.
Beautiful handwriting classes for students by MAX Academy, Chennai to improve handwriting.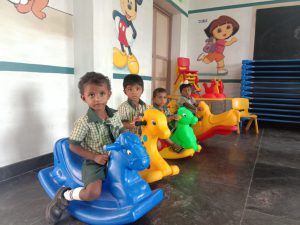 KG Classes or Kindergarten consists of classes from Pre-KG, LKG & UKG. Shepherds has play areas and various activities for KG class students so children can have basic sessions of writing, playing, singing, painting, music etc.
It is a very important basic building block to make kids prepare for primary education.
"Kindergarten" is a German word which literally means "garden for children" and it's anglicized version is "Kindergarden". The word Kindergarten was first used by Friedrich Frobel for the Play and Activity school that he created in 1837.
Higher Secondary classes are 11 & 12th standard.
Groups Offered:
Group Code – Subject (Code)
2502 – Mathematics (141) | Physics (105) | Chemistry (107) | Computer Science (119)
2503 – Mathematics (141) | Physics (105) | Chemistry (107) | Biology (109)
2708 – Economics (149) | Commerce (155) | Accountancy (157) | Business Maths (177)
Ours is the best schools in tirupattur offering the above groups for our students studying in 11th & 12th.

Atal Tinkering Lab (ATL) is a program run by Atal Innovation Mission (AIM) under NITI Aayog to foster curiosity and innovative mindset in young students across India to encourage research and innovation in schools across the country. Read more…
Our students have participated in various interschool competitions conducted at district and state-level thereby becoming the best schools in tirupattur.
Various schools in tirupattur participate in competitions and our school students have won many prizes which help them to showcase their talents.
General Info
Principal: Mrs. Malathi
Vice-Principal: Mr. Sankar
Grade Levels: K-12
Curriculum: State Board
Admissions
Admissions are open for Classes Pre KG to 12th Standard. Parents can collect the application form from the school office by paying the application fee. Parents need to fill the form and submit the signed application form with the required documents & photos.
News & Resources
There is a lot happening in the school. For more information check out the following page. Read More…
Career Opportunities
Opening for ATL Mentor:
> The candidate should be a graduate with Bachelors in Science or engineering.
> Should have expertise and interest in electrical, electronics, computer, robotics, and physics subjects.
> Think out of the box and show strong intent to help young students to develop their skills and confidence.
> Proficient in English & Tamil.
RIGHT TO EDUCATION
The RTE Act mandates that "[e]very child from the age of six to fourteen years shall have a right to free and compulsory education in a neighbourhood school till completion of elementary education." 
In accordance with Section 12(1) of the Act, all specified category or private schools must reserve 25% of their seats for children belonging to disadvantaged and weaker section from the neighbourhood and provide them admission from Class I / Pre School onwards. See Eligibility & Details.
 Shepherds is one of the best schools in tirupattur to provide RTE for the children from disadvantaged and weaker section.